Here some pictures that I promised of the Christmas decorations in my home . . . and I thought I'd take part in this little "Holiday Home Tour" over at Mormon Mommy Blogs.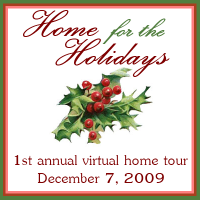 I am usually done decorating for Christmas by the end of Thanksgiving weekend - but I'll tell you later why it took me so long to decorate my home this year. . .
Our Christmas Tree
I was so ready this year for everyone to help me put up the tree and decorate it.

After

all, I am a Reformed Christmas Tree Nazi, after all, and "perfection" has taken on a completely new meaning for me. However, I think I was a little too late in reforming. The minute I mentioned that it was time to decorate the tree, everyone scattered. Just disappeared. The only one who'd help me was my 4 year old granddaughter

Evalie

, who obviously didn't know any better . . .
The Stockings . . .
Yes, I used to have all completely

coordinating

and matching stockings; green for the boys and pink for the girls.
A couple of years ago, I decided that we needed new stockings and that everyone was going to design their own, because they (the boys) always griped about how "

girly

" their stockings were. (The girl's stockings were definitely

girly

, but the boy's weren't!)
So this is our row of stockings, each reflecting the taste and personality of it's owner. . .
(I don't know how it looks on your screen, but on mine the wall color looks burnt orange. It's not. The color is actually a deep dark burgundy. For some reason it bothers me that the color reads differently)
My Favorite - The Nativity Scene
One Christmas, about 20 years ago, I was involved with a Relief Society project where we all cleaned and glazed these ceramic sets. Actually, involved is too mild a word. In Charge Of would be more like it. Thankfully, most of the women were not crazy like me and made only one set with the six main pieces.
Me? I wanted all 17 pieces, and I wanted to do a set for myself, my mom, and my mother-in-law.
Crazy, I know! But it was fun.
There is more to this story, but I will save it for another day . . .
. . . and yes, those hooks that the ornaments are hanging on below the mantel are really for the stockings, but my dear hubby has a phobia about them bursting into flames. Since after all, we really do use the woodstove that the mantel is perched above. And it gets pretty dang hot.

Isaac's project. He was getting into the Spirit of Christmas decorating

-
This tower of plastic cups he created - many times and in many different places - until he was happy with the final product.
Then it all fell down, and he quickly realized that it wouldn't be sticking around too long. . .
Ok

,

Ok

.
Here's the reason (well one of the reasons, anyway) that I didn't get around to decorating for so long.
On our return trip from Oregon for Thanksgiving, we brought back a full load of cows.
(You see, my husband's profession is selling real estate, and well, you know how that's been going . . .
So being the outdoorsy kind of guy that he is, and taking into account that we live in a rural area, he found a niche where he could buy nice milk cows from the

diarys

in

Tillamook

- yes, where that Yummy Cheese comes from. To try and make ends meet for us, he has been hauling them back here and selling them mostly to family farms and people who want to be more self-sufficient)
So, we got the cows back here and settled and got unpacked and things restored almost to normal here at home. That always seems to take at least a few days.
Then one of the cows had her calf right at the beginning of a pretty severe cold snap last Saturday. And after a few hours, it looked at though the mother's milk wasn't coming in. And that baby calf would die if it didn't get some milk and get some warmth.
So what did my hubby do? (And how could I object?)
He set up a pen for the calf in my family room - thankfully the floors are all state, and who knew that a giant water tub could serve another purpose!
He did find a buyer for her today, so my family room is back to normal now . .

.

So, you know how I am always telling my kids to be good, mind your manners, and don't act like you were raised in a barn?
We-ell, . . . what can I say after this?